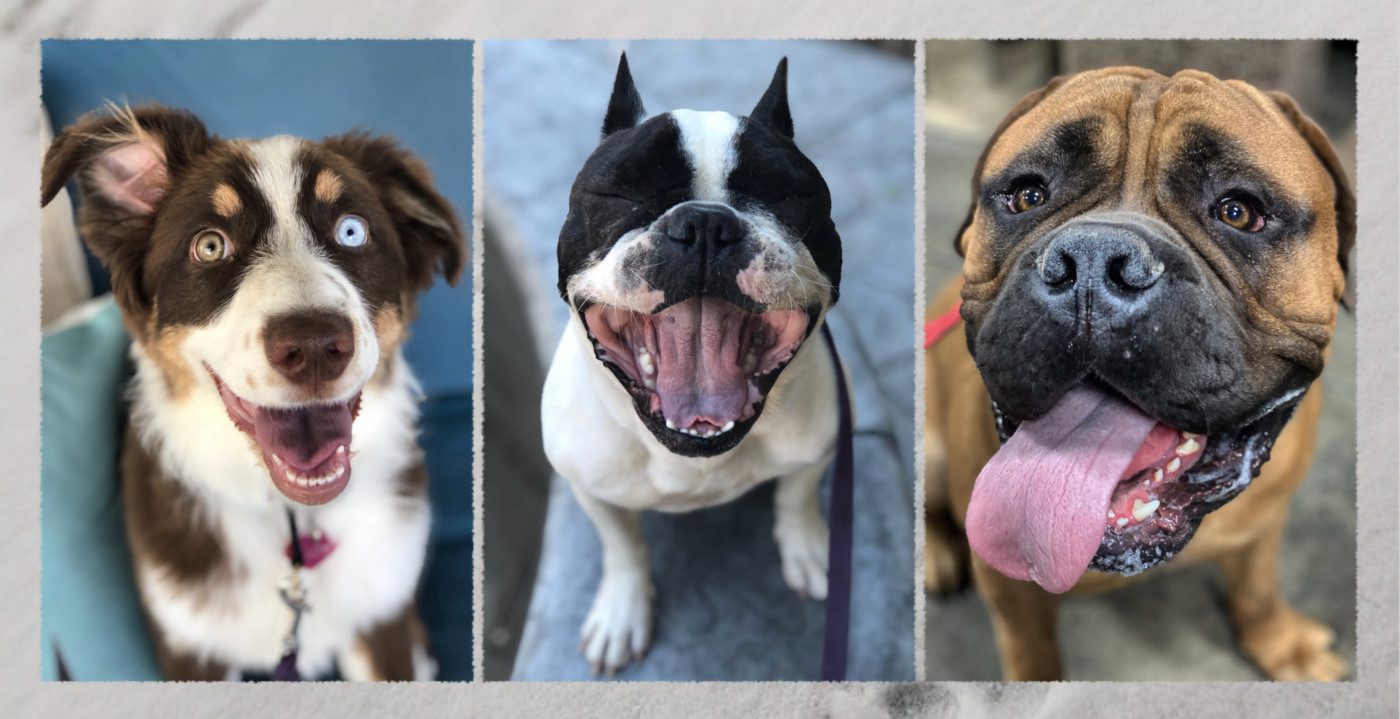 What is the difference between a Board & Train program and Private Sessions?
Board and Train means your dog will be staying with us for the entire duration of the training, which ranges from 3 to 8 weeks. When your dog stays with us, it allows us to see their true behavior once they become more comfortable. It usually takes a few days for a dog to adapt to a new environment, and from there we can build a trusting relationship with them. Your dog will be learning 24/7, as even on their downtime we are teaching them to be calm inside their kennels or on their placemats. They quickly learn to respect their home and not treat it as a playground. The quicker they learn house rules, the quicker they get to play! Dogs learn from basic commands on-leash, to offleash commands at an expert level. We love going on training field trips, which means our boarding students get to enjoy trips every week to the pet stores, department stores, parks, and even to our favorite coffee shops! Being in different environments helps dogs explore different opportunities to learn manners outdoors with real life experiences. Once your dog graduates from our Academy, we will then teach you the how to communicate with your dog so you can easily maintain the training at home and continue effortlessly with your every day lives! Private sessions are great if you are willing to put the time into learning how to train your dog on your own. Sessions are held twice per week, and the duration of each class is roughly one hour. With our guidance, you will learn how to teach your dog basic on leash commands. Once your dog has learned commands on leash, you can keep coming back to advance your dog little by little, depending on you and your dog's training pace. It is typically a longer process, and if you don't do your training homework on the days we don't meet, your dog will not be able to learn as quickly, therefore not seeing effective results. Any program works if you put the time into it, and we thrive on seeing you succeed with your pup!
Will I get to visit my dog while they are boarding?
That is always a tough question to answer, but we do not allow visitations while your dog is staying with us. We have found training to be counterproductive as the dog does an immediate change when they see their family in the middle of training. They revert back to their old habits and give our trainers a very hard time, as dogs are usually left confused. Have you ever wondered why kids that go to Summer Camp are only allowed to get a letter from their parents, not even a phone call? It's for the same reason! It takes their mind away from the daily activities they have for the day, and they don't allow themselves to enjoy the rest of their stay. Your dog will meet great friends, go on daily walks and multiple training experiences, so we hope to put your mind at ease when we say we will take care of your dog as if they were our own! We will be happy to update you weekly and send you pictures to give you a piece of mind that your dog is safe and happy to be at our academy!
Will my dog miss me while they are boarding ?
Your dog will be fine! They will be kept busy with training, socializing, and will be having fun while boarding. It is only natural to miss your dog, but we promise you your dog will not stop loving you, or think they have been left behind! Dogs just have a magical way of knowing who their family is and we have never seen a dog ever forget.
Will my dog be on a schedule? What does a Board & Train day look like?
We start our day by letting our dog students out to potty and socialize for 20 minutes. Once they go back in their kennels, they have breakfast and we take them out individually on a structured walk. During our walk, we focus on the "heel" command, and teach the dogs to ignore other dogs and people outside. After our walk, the dogs go back in their kennels for nap time. After nap time we begin obedience training with one single dog and then we switch! The duration of one training complex is usually 30-45 minutes, depending on your dog's energy level and state of mind. Every dog typically gets 3 rounds of training per day. They get fed breakfast and lunch during their training sessions, or inside their kennels. It depends on what we are working on that day. The dogs go on a second potty break between 1pm and 3pm, where they socialize again and then rest until we begin our third training complex. Depending on the level of training your dog is receiving, we will focus the training on field trips to the park, malls, stores, etc. If we are not out training, we are inside a home environment, focusing on house rules and boundaries. Once all the training has been completed for the day, they are fed dinner and go back out for their third potty/ socialization break between 7pm and 9pm. After break time, they go back to their kennels, and go to bed for the night! Every dog typically gets 3 rounds of training per day. We have a rotating system, which means we work with one dog, while the others rest in their kennels or in a place cot, then we switch. They get fed breakfast and lunch during their training sessions, or inside their kennels. We make sure to provide all our dog students with much needed rest and playtime as well because they deserve it!
Does my dog have to be neutered/spayed in order to enter any Board and Train programs?
Dogs that are intact are welcomed and will not be turned away from our program. We only ask that you avoid bringing your female dog in heat, as this will distract your dog and other male dogs from training.
What happens in a medical emergency situation?
Safety is a priority to us, and we take our precautionary methods very serious. If and emergency were to occur, we have 3 local vets that we have a good relationship with. Two of them are only 5 minutes away, and the other one is 15 minutes from us. We will treat your dog as if they are our own, and will not hesitate to take action, given a serious medical situation would arise.
What vaccinations are needed for my dog to start the Board and Train program?
Your dog must be vaccinated by the time he or she enrolls in our Academy, as we have all of our client's dog at our facility, as well as our own personal dogs. We will ask for a copy of current vaccinations against Rabies, Bordatella, Parvovirus and Distemperment. If your dog is too young to receive the Rabies shot, we will not require it for a puppy. We will also ask for a fecal float to find out if there are any parasites in your dog's feces. Safety and prevention always comes first at our Academy!
What does balanced training mean?
Balanced training means we apply a correction for an unwanted behavior, and apply positive reinforcement for good choices. A correction is simply a humane leash and collar correction, or by applying quick stimulation through an E-Collar. Positive reinforcement can be anything from toys, to food, to praise. Every dog responds differently to reinforcements, so we use whatever reward will be the highest value to them. Why do we correct? Because we want to teach the dog right from wrong! Once they understand the difference, it encourages them to seek guidance from you. This can potentially save their lives if a dog is aggressive, or is simply bad-mannered or too playful and likes to run away from you. We have studied the way a dog reacts using an all-positive based training as opposed to balanced, and we found that dogs would only please us momentarily to get a reward when there was no balance. Commands would have to constantly be repeated (sit, stay ,stay, stay, sit), way too many treats were given, the dog wouldn't respect any kind of structure for more than a minute, but most importantly, they were only achieving rehearsed commands, instead of learning to make right choices and changing their bad habits. Any dog can sit and stay for a treat, but will they stay when they spot a cat across a busy street? Our YES/NO balanced approach is so effective, we mostly tell dogs YES 90% of the time, and NO only 10% of the time, allowing them to enjoy the training, while learning simultaneously!
Why do you use E-Collars?
We use E-Collars because it can be used at very low working levels to achieve better communication, and create a stronger bond with your dog. We have found this approach to be the most effective and most humane way to work together through any problem your dog might be experiencing. E-Collars are often misinterpreted as being shock collars of the past which would electrocute the dog's whole body, when it in fact only sends out stimulation through the contact points as a TENS unit would. This unit is very common and is used for physical therapy on humans all over the world. The E-Collar is a great tool when used properly, as we have saved so many dogs from being re-homed or even euthanized. The benign sensation transmitted through the contact points does not harm the dog physically or mentally, as we have been able to successfully help even the most anxious and fearful dogs through this method. We love to see the results we get when training with the E-Collar, and hope you are just as excited as we are to help get your dog on the right track, and out of harm's way!
Do you use E-Collars on every dog for training?
It depends! The great thing about the E-Collars we use, is that is allows for a very wide range of levels from 0-127. Other E-Collars only have 6-15 levels, which means the intensity of the stimulation increases in large increments between each level, as opposed to gradually increasing the pressure. This means that we are able to use the E-Collar on any dog, big or small, any breed, without affecting their state of mind and capacity of learning. We also offer the option of using other training collars if you are just looking to get your dog to listen to basic commands on leash, and does not demonstrate bigger issues like lunging at other dogs or people. We still encourage the use of the E-Collar for on-leash obedience, but allow for the option to opt out. If you want full reliability of your dog being safely off-leash, and have the peace of mind they will come back to you no matter what, then using an E-collar will be the BEST way to achieve it with any dog! If you can have an invisible leash, why not use it!
Why do you use Prong Collars?
Although they may seem dangerous and barbaric, a prong collar, when used properly, is one of the safest tools used to gently correct a bad habit. We use it to communicate with the dog, and guide them to rethink bad choices, and make right choices instead! Have you ever seen a dog choking itself out with a regular collar, or tugging so hard on a harness, your arm might fall off? These training tools might seem like a better approach at first glance, but they actually underwhelm the dog, causing them to react in a negative way. Don't let the appearance of a prong collar mislead you, as it has been proven time and time again to be one of the most subtle ways to change the way a dog behaves. Every training tool has a purpose, and the prong collar finesses the commands a dog has already learned.
Will my dog be around aggressive dogs?
Dogs that come for our rehabilitation program are only introduced to our personal dogs. Once fully socialized and temperament under control, all dogs in training at some point meet. Every single dog in the yard wears the proper training collar needed to create a safe environment. The safety of all dogs is our first priority, and we take every precaution necessary to ensure no one is harmed!
How can I successfully maintain my dog's training after returning home from boarding?
The moment you decide to have your dog trained by us, you become a part of our family. We will work together roughly 4 hours, typically split into two classes, where we will cover how to properly use our training tools and techniques with your newly trained dog! While your dog is with us, we encourage you to become a proactive dog owner by looking through informative videos available online, and asking us questions, which we will be happy to answer. No question is a dumb question, so please feel free to contact us with any small problem or concern before it becomes a bigger problem! We also offer additional training at a special price if you feel you need more than the included hours of training.
Do you offer discounts or sales for multiple dogs?
It is very common to see discounts offered in retail and client service businesses, but we do not offer discounts or sales for our services. The reason why is because it is actually much harder to train multiple dogs from the same household than it is to work on a single dog. Each dog gets trained individually, and then worked together to make sure they are on the same track and ready to be in sync back home. This is a very challenging task that we love to be a part of, but due to the amount of time that goes into training, we cannot offer discounts, and it would not be fair to our single dog clients as well.
I have tried multiple trainers, and no one has been able to successfully change my dog's behavior. What makes your program different?
Our approach to training has proven to have a high success rate due to how we present our training tools and techniques to the dogs we work with. We are very honest about our training process, and we open a passage of communication between human and dog, whereas other trainers might be focused solely on teaching the dog rehearsed commands. What makes us stand out is that we mold our training to fit each individual dog's personality. A Labrador might have a different need in order respond to training than a German Shepherd would, and we have no problem taking the extra time to analyze each one in order to achieve a better response from them. We dedicate ourselves to changing a dog's state of mind so they can make the right choices on their own, instead of being fearful, or aggressive, or always running off to get into trouble. You also become a part of our team, and we work very hard together, as we educate you on how to successfully make your dog respond to you the way you thought would never be possible!
I really need help with my dog, but I can't afford your programs- Are there any other options?
A great option is to apply for a loan with any creditor. Most clients qualify for Pay Pal's Credit program which offers zero interest if paid within 6 months. We are currently working on making informative videos to help you work through some issues you might be experiencing with your dog. We want to be able to help you, by posting as much free content as we possibly can, and promise to keep you posted on when these videos will be released on social media. In the meantime, you can follow us on our Facebook page and Instagram for tips and advice!
Send Us Your Questions Today
If you have any more questions about our dog obedience and protection training center, contact us anytime. We will be more than happy to answer them as soon as possible.